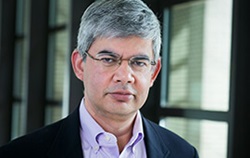 Vijay Raghavan is executive vice president and chief technology officer for LexisNexis® Risk Solutions. In this position, he is responsible for software development, R&D, information systems, security and data center operations.
Having spent almost 30 years in Information Technology, Vijay has extensive experience in the management of diverse technology functions, with oversight of the full software development lifecycle and support functions for high-availability applications, which are powered by high-performance supercomputing platforms.
Previously, Vijay served as vice president, Insurance Technology at LexisNexis Risk Solutions, where he was responsible for all aspects of application development and maintenance for the insurance products.
Prior to joining LexisNexis Risk Solutions, Vijay held senior executive positions at Paragon Solutions, where he was chief technology officer; and at McKesson, a Fortune 15 company, where he was vice president, Product Development within the Imaging Solutions Group.
Vijay holds a B.E. in Electrical & Electronics Engineering from the Birla Institute of Technology and Science, Pilani, an M.S. in Cybersecurity from the Georgia Institute of Technology and completed an advanced management program for executives at MIT Sloan School of Management. He is based in Alpharetta, Georgia.