There are several paths available for our customers to go through the process of fully contributing to the databases we operate. The path chosen for a particular insurer or broker will depend on the specific needs of that company and any issues they present explaining why they are not ready to contribute. Common challenges that we hear include wanting to wait for larger market share to be loaded, or that there are a lack of IT resources available to start a project. These are some of the reasons given, for what can seem to be a slow process of integrating new data sources like LexisNexis Risk Insights or Attract™ for Motor.
But along the way there are always ways we can adjust our approach. Sometimes insurance providers can be reluctant to expend the effort on a project until they are assured that their peers are also contributing.
It's the classic 'chicken or egg' problem we usually face with a new database, moving our business partners through evaluation, data load, full retrospective test, to the live service.
Having said that, we are very proud to be delivering two new services to our UK customers this year: Attract™ starting with Attract™ for Motor, which is a new contributory market-wide score for further understanding the risk of an individual (more on that later) and LexisNexis Risk Insights, which is a data set containing attributes built for the insurance market, focused on building an in-depth understanding of individuals.
We want to thank those four major insurers who were the early seed contributors for Attract™. After three years of collaboration they are now the first to benefit.
Attract™ is a good example of how we work with insurance providers to create, gather and normalise data files to create a business advantage, effectively taking many different pieces of data and putting them together to create new data-driven insights.
But what are the components that go into Attract™?
What is Attract™?
For Attract™ the first building block is our LexID®. We have commented on our propriety data linking technology SALT and LexID® in a previous blog article. LexID® works by searching across data from external data sources.
It's been called the secret sauce that runs through many of insurance services. Other personal data external to insurance, such as edited electoral roll data, property data, other open source data, public records, Land Registry and insolvency data, CCJs, Council Tax Bands, company directors' data, and then insurer-contributed and broker-contributed policy history data, all flows into our systems.
From a total 1.8 billion rows of data, LexID® crashes all of that down into a single reference number, a LexID® for an individual that we use to pull back information.
What makes up the Attract™ attributes?
The first part of Attract™ is derived from LexisNexis Policy Insights attributes, currently utilising proprietary motor insurance policy history data from 69% of the market.
Current insurance policies and no claims discounts (NCDs)
Policy cancellation history
Switching behaviour
Purchase timings
Gaps in cover
The second part of LexisNexis Attract™ is derived from LexisNexis Risk Insights attributes.
CCJs
Edited electoral roll data
Council Tax Bands
Insolvency
Land Registry
What is Risk Insights?
LexisNexis Risk Insights is a service that can solve a particular data pathway for an insurance provider, as I started out by saying. It takes all of the above-mentioned data sets and builds a set of risk attributes to price and enrich the consumer better.
It consists of over 200 attributes, all focused specifically on insurance outcomes, compared to widely-used credit scores built primarily on credit data, for predicting financial defaults.
It is a set of highly-predictive attributes, based on a combination of public records information and other data sources. The same 200-plus attributes can also be applied to any named driver.
LexisNexis Policy Insights + LexisNexis Risk Insights = Attract™ for Motor
Attract™ helps direct insurers, intermediated insurers and brokers improve quotability through the breadth of data we capture within our database. Attract™ for Motor is a score built on insurance-related attributes, trained on insurance outcome, which makes it market leading. Other benefits of the product are identifying named-driver risk include better risk assessment of all named drivers on a quote, helping reduce claims loss, identifying customer-led policy cancellations, insurer-led cancellations and gaps in cover.
Including policy information and claims information, derived from No Claims Discount (NCD) history as a proxy for claims, altogether results in a three-digit score for the individual in the 200-999 range.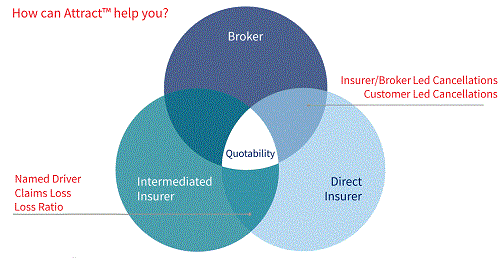 What makes Attract™ unique?
Reduce costly cancellations
Gives an insurance industry perspective on a person, allowing a wider footprint, rather than just the experience of an insurer or broker with that individual
Superior to financial or credit score for predicting different insurance perils risk
Insurance policy history allows for powerful segmentation for better prediction
Depth of insurance-specific data on the individual is far greater than standard, traditional default-related scores
Increased match rates using proprietary data and linking methodology
Provide consistent end-to-end sub-second response times
Market-leading predictor of loss.
With Attract™ we are able to match up to 92% of individuals to their motor insurance shopping process. Similarly, when using the policyholder's address we are able to match up to 92% of named drivers to an individual level.
The segmentation delivered by the Attract™ score shows us that the best decile has less than half the cancellation rate within the first 30 days. The best decile also has less than one-fifth of the rate of insurer-led or broker-led cancellations being imposed on them. The worst decile has at least triple the rate of insurer-led or broker-led cancellations.
How does Attract™ help the insurance market?
Attract™ has been solely built to be predictive of insurance loss. It doesn't matter what kind of motor insurance business you are, or where in the workflow you want to apply Attract™ – through a primary or secondary bureau, for named drivers on all quotes, at point-of-quote/point-of-renewal/claim, as Capstone or full data block, or purely data agnostic – it is going to be a benefit when you can match more people and improve quotability.
Follow the link to the LexisNexis Risk Solutions website to find out more about how we support insurance providers.