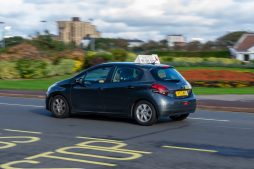 The UK government has signaled its intent to allow the use of Automated Lane Keeping Systems (ALKS) as part of its commitment to reduce road deaths through advances in vehicle tech and vehicle autonomy. It recently closed its call for evidence from industry on its proposals, and one area in particular that seems ripe for review and reform within the next decade is driving tuition and the traditional driving test.
Many accidents are caused by human error and the inability to react quickly to an obstruction or approaching hazard. Advances in driver assistance systems and vehicle autonomy are designed to remove some of this room for error but it is vital that drivers fully understand exactly what their vehicle is capable of and what driving tasks they still remain completely responsible for. The ALKS consultation has helped to highlight the importance of driver education in creating safer roads.
ALKS comes under the umbrella of Advanced Driver Assist Systems or ADAS. ADAS has many functions and forms, from parking sensors and forward-facing cameras, automated emergency braking to lane departure mitigation. These technologies come with many different brand names used by the car makers.
Latest data from SMMT and JATO Dynamics shows that nearly 80% of new cars are now offered in the UK with at least one self-activating safety system, either as standard or as an optional extra. Nearly 1.8 million new vehicles a year are now available with collision warning systems alone.
With the advent of this technology, some of the common driving techniques learner drivers are currently tested on such as parallel parking, emergency stops and hill starts could, in theory, all be managed by an ADAS-equipped car with little or no human intervention. In practice, it does of course very much depend on what systems your vehicle is equipped with and whether that ADAS feature is actually switched on, functioning correctly and within its operational parameters such as maximum or minimum vehicle speed.
ALKS, ADAS and driver education on vehicle tech and the technology interface
The driving test could therefore change to focus on ensuring drivers fully understand how ADAS works, the purpose of each ADAS feature, how to activate and deactivate each function and most importantly, the limitations of any feature. Given many people learn to drive in an instructor's vehicle, and if the vehicle is not equipped with ALKS then this tuition might be achieved using driving simulators or via a computer based training module. These changes would also need to be reflected in the Highway Code.
Simulators could also have a key role to play in the driving test itself alongside in-vehicle tests on the capabilities of each ADAS system. For example, an ALKS system could be set as 'on' for one part of the test. If the driver has not proven to be attentive in taking back control of the vehicle that may constitute a failure.
Naturally, driving instructors will need to be educated themselves on the ADAS features becoming available on new vehicles, cutting through the myriad of descriptors used by manufacturers to understand the core capabilities of each system.
These revisions to driving tuition and the driving test would help to ensure the newest drivers on the road are able to take advantage of the newest vehicle technology, safely. However it does leave a big knowledge gap in terms of vehicle tech for the millions of drivers who have already passed their tests.
With all forms of ADAS becoming prevalent in new cars, and with the advent of ALKS, drivers will need education and training in order for them to use these systems safely. With ALKS in particular, we believe that process could start at the car dealership, with a form of mandatory masterclass. The pros and cons of setting ADAS systems to 'active' only once the driver has proved themselves competent, might also be considered.
While these masterclasses would require investment from both the dealerships and the manufacturers, the investment would be outweighed by the gain in having competent, loyal new owners who truly understand how ALKS performs.
The real challenge will be in the second-hand car market. This may present an opportunity for insurance providers when quoting cover on a newly acquired vehicle. Using vehicle build data with the LexisNexis® Vehicle Build classification now being tested by the market for insurance pricing and underwriting, insurance providers could confirm to the customer the exact ADAS fitments for their car and encourage them to seek training from the relevant car manufacturer or franchised dealer network.
There were big changes to driving tests in December 2017 when manoeuvres such as 'reverse around the corner' and 'turn in the road' were removed from the syllabus, and the use of satellite navigation systems began to feature in practical tests. The next big change could be ten years from now, but in the meantime, the insurance sector has an opportunity to do its bit to help drivers new and old understand, and place an insurance benefit on the increasing levels of autonomy in their vehicles.
Follow the link to the LexisNexis Risk Solutions website to find out more about how we support insurance providers.