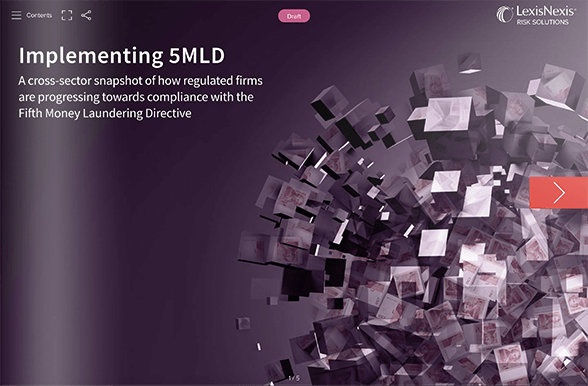 The 5th Money Laundering Directive (5MLD) has been integrated into UK Anti-Money Laundering regulations since January 2020, but you don't have to dig far to find regulated firms openly struggling to meet its requirements.
With over a year gone since its implementation, we have produced a report to reveal how firms have been coping with the additional requirements of 5MLD. The report analyses seven regulated sectors: banking, lending, wealth management, estate agents, accounting, legal and gambling and reveals that, on average, firms are less than 60% of the way through their implementation programmes, with variances across the sectors.
The report goes on to discuss 5MLD in greater detail, broken down by sector, including:
What is the cost of 5MLD implementation?
How effective will the 5MLD processes be at preventing financial crime?
The impact of Brexit on 5MLD
View the report today to discover how you compare to your peers.